August 28, 2018
White Pine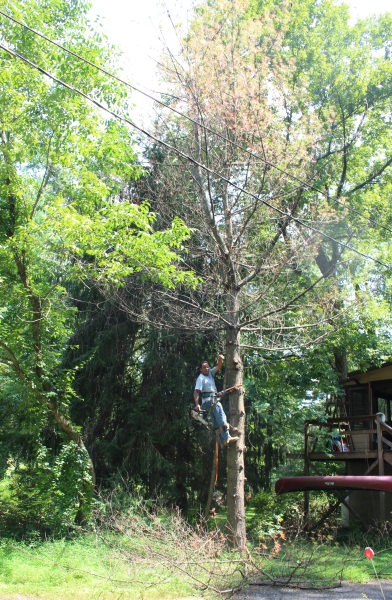 Pablo and his chain saw
There was a white pine tree in front of my house, maybe 35 - 40 feet high. Over the past few years it was starting to look kind of sickly, with the lower branches bare, and the needles on the upper branches rather sparse. So I figured it was time to take it down. I called a handyman from the neighborhood named Pablo who does that sort of work, and he came over and had it down and carted away in an hour or two. And it was done. Nothing particularly remarkable. Except for one thing.
I had planted that tree myself from an 18" seedling a few years after I moved into my house.
Was it that long ago? I remember when I planted it thinking that I might like to have an outdoor Christmas tree that I could decorate. And sometime around 2001 it finally was about 6 or 7 feet tall, big enough to use for my intended purpose. So I went out and bought decorations and hung them. But the white pine boughs were too spindly to support their weight, and drooped and sagged. And years later, when the lower boughs were strong enough to decorate, the tree was too tall to reach the top without a ladder, and too weak to safely support a ladder leaning against it. So much for that plan.
Like children, they grow up quickly, and they die. And you never expect them to die before you.
Tempus fugit.