Mike takes the notion that Folk Music is passe or boring, and blows that all to Kingdom Come. He presents an intelligent and highly entertaining program of songs, tunes, stories and humor. Mike plays a superb fingerstyle guitar in idioms ranging from traditional fiddle tunes to the American Songbook to contemporary Americana. He is a master of the little-known English Concertina, applying it anywhere from a haunting and poignant song accompaniment to an unexpected virtuoso transcription of a Bach concerto. A performance might include a song of heart-stopping emotional impact, an acapella Irish patter song sung to the melody of a mile-a-minute fiddle tune, a riveting recitation in the style of Robert Service, and some of the most horrible parodies ever perpetrated on an unsuspecting audience. More a singer-songfinder than a singer-songwriter, Mike combs the canon of contemporary and traditional songs for little-known gems, puts his unique stamp on them, and brings them to the stage.
If you've been around the folk scene at all in the Northeast, you've probably seen him. He's that tall guy with the red beard and the leather fisherman's cap. And when the music starts, he's in the middle of it all, adding to the chorus and probably knowing all the lyrics. His repertoire is vast and varied. Mike is not only a collector of songs and a master at arranging them, but is also a writer of songs and recitations. He has a keen ear for the best of the best, and this only enhances his own writing. If you're looking for an alternative to the endless stream of singer songwriters who write for the market, Mike's your man. He makes us laugh, cry and think, all the while entertaining us long into any evening of music.
Click here for short descriptive text that can be used for Mike in posters, publicity releases, and venue calendars.
FESTIVALS
Philadelphia Folk Festival
Schwenksville, PA
Old Songs Festival
Altamont, NY
Falcon Ridge Folk Festival
Hillsdale, NY
New England Folk Festival
Natick, MA
Champlain Valley Festival
Ferrisburg, VT
New Jersey Folk Festival
New Brunswick, NJ
Folk Project Festival
Stillwater, NJ
Big Muddy Folk Festival
Boonville, MO
Spring Gulch Festival
New Holland, PA
Eisteddfod NYC
Brooklyn, NY
AvalonFest
(the infamous "naked" festival)
Paw Paw, WV
Summerfolk
Owen Sound, ON, Canada
Otley Black Sheep Festival
Otley, W. Yorkshire, UK
Wallingford Bunkfest
Wallingford, Oxfordshire, UK
VENUES
Minstrel Acoustic Concert Series
Morristown, NJ
Fiddle and Bow
Winston-Salem, NC
Hurdy Gurdy Folk Club
Fair Lawn, NJ
Passim
Cambridge, MA
Woods Hole Folk Music Society
Woods Hole, MA
Bound for Glory
Ithaca, NY
UnI Coffeehouse
Springfield, MA
Stone Soup
Providence, RI
The Sounding Board
Hartford, CT
Branford Folk Music Society
Branford, CT
Folk Music Society of Huntington
New York, NY
New York Pinewoods Folk Music Society
New York, NY
First Night
Montclair, NJ, Maplewood, NJ,
Morristown, NJ, St. Johnsbury, VT & others
Focus
Rockville, MD

Golden Link Folk Song Society
Rochester, NY
The Turning Point
Piermont, NY
Folk Music Society of Huntington
Long Island, NY
Crosscurrents
Kansas City, KS
The Ten Pound Fiddle
Lansing, MI
Godfrey Daniels
Bethlehem, PA
The Ark
Ann Arbor, MI
The Robin Hood Folk Club
Nottingham, England
The Herga Folk Club
Wealdstone, Middlesex, England
The Llantrisant Folk Club
Llantrisant, Wales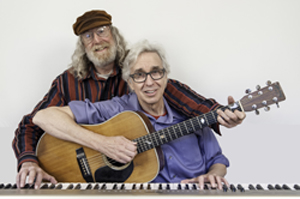 Coffeehouse of the Absurd is an evening of intelligent and satiric comedy featuring Mike Agranoff and John Forster. Mike is renowned for songs of twisted logic (Railroad Bill, wherein the title character gets into a heated argument with the singer of the song), mile-a-minute patter songs (The entire story of Hamlet in 3 minutes) and some of the most brilliant parodies this side of Weird Al Yankovic. John obviously fell asleep one too many times as a child listening to his Tom Lehrer albums. This is evidenced by his twisted sense of humor, his delightfully skewed view of the human condition, and his prodigious skills as a pianist. His songs have a knack for taking the plausible but improbable, and leading that to its implausible but inevitable conclusion by way of unlikely rhymes, horrible puns and ironic satire. His signature ode to Cape Cod motoring, Entering Marion, is a perfect example. Together, Mike and John present a show that is guaranteed to leave their audience in stitches!
For samples of my own humorous material, I'd refer you to:
MIKE AGRANOFF & GATHERING TIME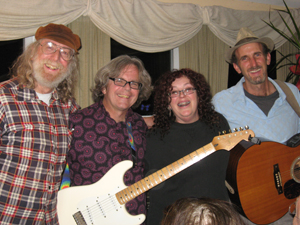 Gathering Time is a vocal harmony trio based in Long Island, NY. It features the prodigious voices of Stuart Markus, Hillary Foxsong, and Gerry Mckeveny, suplemented by their equally impressive instrumental chops on acoustic and electric guitar and bass. Their repertoire encompasses their own writing, a dash of traditional song, and some impressive renditions of classic folk of the '60s and '70s. We met at a post concert party in 2008, and instantly formed musical and personal bonds. Our show format is a split bill, with each of us doing our own set, but also sitting in on about 1/3 of each other's sets. So they add vocal harmonies and lead guitar work to my set, and I add a 4th voice and concertina to their set. The result is a whole that is greater than the sum of its parts, and a very entertaining show. Here are some samples of our combined work:
Give Me Just A Little More Time: They add harmonies to this gospel song in my repertoire.


60's Mudley: A bit of choreographed foolishness we've added to this James Gordon creation.


Impromptu jam: (Live and candid video) This just happened in the lobby of the Hurdy Gurdy Folk Club after our joint gig there.
These examples show the synergy between us, as well as the full sound of the 4-piece collaboration.
Quotes
"You will never think of Folk Music the same after you attend a Mike Agranoff concert. Quite possibly the most reverent irreverent musician on the planet, Mike is absolutely irrepressible as he turns that genre inside out and back again in the blink of a twinkling eye. His parodies are legendary for their groan factor and insightful brilliance, but Mike is just as apt to restore an ancient heartfelt tune to its original splendor with his artful and deft guitar work. Mike Agranoff has been described as a "jokester-folkster" but that is just a part of his appeal. His eclectic love of all things musical is impossible to conceal. "
Flying Cat Music
"Mike has such eclectic tastes that every song--even the ones you know--is a lovely surprise."
A fan.

"That guy's a genius!"
Christine Lavin
" Thanks to you for such an incredible night! I received so many wonderful comments, many from our board members, and everyone loved the show. I personally thought you gave a stellar performance - your choice of songs and stories was very well put together, very diverse and well crafted." Ron Olesco, WFDU-FM, Hurdy Gurdy Folk Club

" ... a witty and astute folksinger ... known for his often hilarious songs that poke fun at his own profession, as well as doing things like condensing Shakespeare's Hamlet into a three-minute song."
Homegrown Music (disclaimer: While I have been instrumental in proliferating the 3-minute Hamlet song, it was written by Scotsman Adam MacNaughton. I merely translated it from heavy-duty Glaswegan Scots to American English. M.A.)
"I first heard Mike Agranoff sing 'Oor Hamlet' at the Philadelphia Folk Festival one year. I said to myself, 'I gotta get that song.' "
Michael Cooney
"Mike Agranoff is the guy who walks into a song circle at a folk festival at three in the morning and introduces some great British ballad which fits in perfectly with every other song and which he sings with a strong voice and a great sense of drama. His folk music knowledge and commitment to promoting artists and the music in general have made him a great resource. ... He is a word-smith and raconteur and that makes for a terrific live performance. The last time he played, he was competing with a concert upstairs and a flood downstairs - and he still wowed us."
Postcrypt Coffeehouse, New York City

"...What a memorable show!"
U'n I Coffeehouse, Springfield, MA
"This was an absolutely delightful show. Mike is a whirlwind and puts on a very live show; — he bounced us from traditional ballads to recitations to parodies to Joplin to a Bach violin concerto played on a concertina. Mike hasn't been with us for almost 20 years, and this was a too long delayed return to our stage for this one-of-a-kind folk impresario. This will be an evening we won't soon forget. "
Folk Music Society of Huntington, Huntington, NY
Contact Mike
Sign onto Mike's Mailing List to be informed of his appearances in your area.
To book Mike for a performance, contact him directly:

EMAIL: Mike@MikeAgranoff.com

11 Overlook Road
Boonton TWP, NJ 07005

973-335-9489