October 23, 2021
NEGOTIATING THE BUREAUCRACY
If you find this post overly long and confusing to read, think of how it must have been to have actually gone through this convoluted and frustrating series of events.
I have a friend from the neighborhood named Pablo, to whom I've been lending a hand.  He is an undocumented alien from Costa Rica who has been in this country for several decades, making his living as a handyman, and general contractor.  He speaks English quite well after all this time, and is very smart and knowledgeable in many mechanical and construction skills.  And he's also a really good guy. I've hired him at good wages over the years for many tasks from snow plowing to window installation in my house.  (See my Blog entry from August 28, 2018, White Pine.) He is a wonderful person who has been shat on by fate, a situation I'm trying to remedy to what extent I can.
Earlier this year, the State of New Jersey started issuing driver's licenses to such non-citizens, and I've been helping him negotiate the bureaucracy of the Department of Motor Vehicles to get him one.  His first step was to renew his passport, by which he first arrived in this country, but has since expired.  That had to be done through the Costa Rican embassy in New York City.  Late last spring, he got an appointment there in July, and succeeded in renewing the passport.  The next step was to tackle the DMV.
He has a smart phone, but no computer, and not a lot of Internet skills.  He came over to my house, and we went through the online procedure on my computer to get an appointment to apply for a learner's permit.  We looked at all the DMV offices within 50 miles, and there were no appointments available at any of them.  So I called up DMV to see what could be done about that.  I left my phone number with the Artificial Unintelligence at the DMV, which promised that a human being would call me back.  Surprisingly, one did the following day.  She informed me that each DMV office had a limited number of available appointments per day, and that those appointments became available at midnight.  And they were all scarfed up within the first couple of hours.  So he came over to my house late one night, and at 12:01, I went online again looking for appointments.  After a couple of website crashes, I was actually able to secure an appointment for him in Paterson, about 20 miles away.  In October.
On the appointed day, I picked him up early in the morning and we drove out to Paterson.  I was not permitted to accompany him on the interview, but they did have Spanish-speaking agents who could process his application.  I went back to my car to wait for his call to pick him up.  When he did call, it was to tell me that he was unable to secure an appointment because he did not have sufficient documentation.  His passport was OK, but he needed to produce his Marriage Certificate.  (Why???)
We drove back to his home, he found the Marriage Certificate, and then drove back to Paterson.  Again after a wait of an hour or so, he called, this time with the report of success.  He had in hand a Learner's Permit, which would permit him to drive, accompanied by a licensed driver as passenger once he passed a Knowledge Test.  He was given a booklet (in Spanish) to study on the rules and regulations for driving in the state of New Jersey.  The next step was to secure an appointment to take the Knowledge Test.  Ironically, the agent who processed this Learner's Permit was not the same as the one he first spoke with, and she did not even ask to see the Marriage Certificate.
OK, another appointment.  Another midnight session on my computer to look for an opening.  We were able to find a Knowledge Test availability at a much closer DMV office in Randolph.  In December.  Well, that will give him plenty of time to study the booklet.  I filled out the online Knowledge Test Appointment form, entering all the data from his Learner's Permit, and clicked "Submit".  The computer pondered all this for a minute or so, and then spat out the same form, with a big red message that read, "Unfortunately we are unable to determine if you are eligible for this knowledge test.  Please verify and reenter the requested information."  Repeated submissions produced the same uninformative result.  WTF?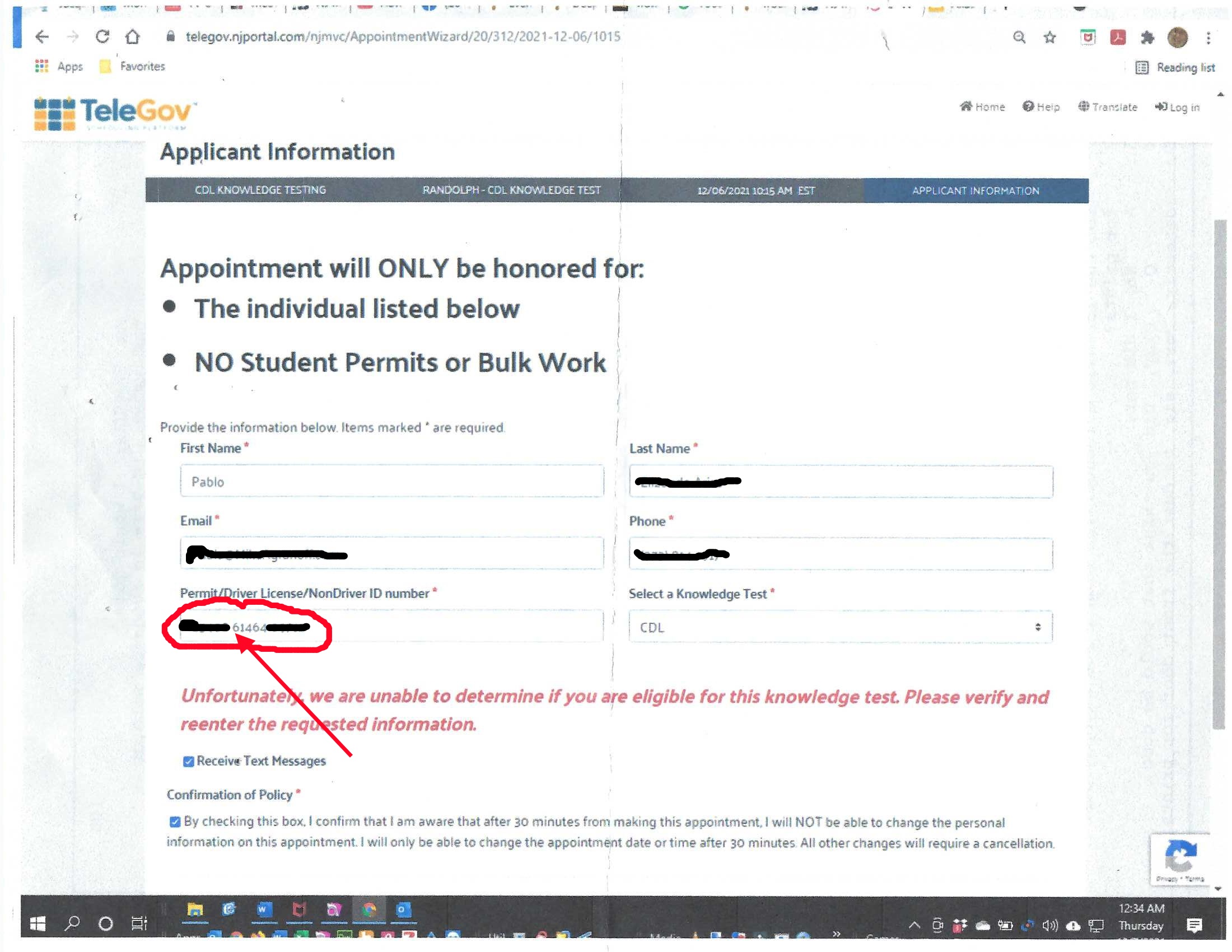 Error Message

The next day during business hours I left a message with the DMV AU (Artificial Unintelligence), who promised a call-back.  I also reported the problem via email to the DMV's help line, attaching a photocopy of his Learner's Permit, and a screenshot of the online form with the error message, asking for advice.  The phone call-back arrived first, from an agent, who told me he could do nothing, but we should show up at the Randolph DMV office first thing in the morning, where we could speak with an agent there who might be able to help.  A response to my online report came next by email, with the short and cryptic message, "Thank you for your inquiry. The license number is incorrect. What is the correct number?", followed by a summary of the information I had entered on the online form.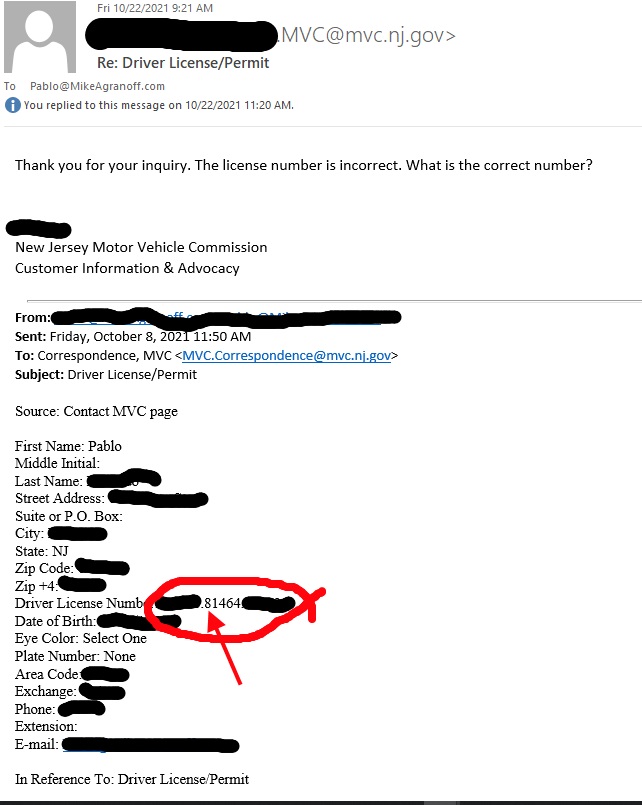 Email

Last week, I picked him up at 7:30 AM and took him to the Randolph DMV office.  We joined another half dozen people waiting on queue.  By the 8:00 AM opening time there were two dozen on queue.  We were separated into two lines, those with appointments, and those without.  Those with appointments were served first.  We were first on line of those without appointments.  When it came our turn, the agent told us that she could not be of any help finding why Pablo's online application for Knowledge Test had been rejected, but if we showed up at opening time any day, chances were he'd be able to take the Knowledge Test without an appointment.  (Insert here the thumping sound of my forehead banging against my desk.)  OK, I told Pablo to go and study the booklet, and when he was ready we'd go back to Randolph early.
When I got back home, I saw in my inbox the email response from the DMV to my email query.  The agent's message read, "The license number is incorrect. What is the correct number?"  I carefully examined the summary of the data below his message.  The license number on that summary did not match the number on his license.  One digit was off.  The 2nd agent in Paterson had mis-copied the number on the license into whatever form she had filled out. 
.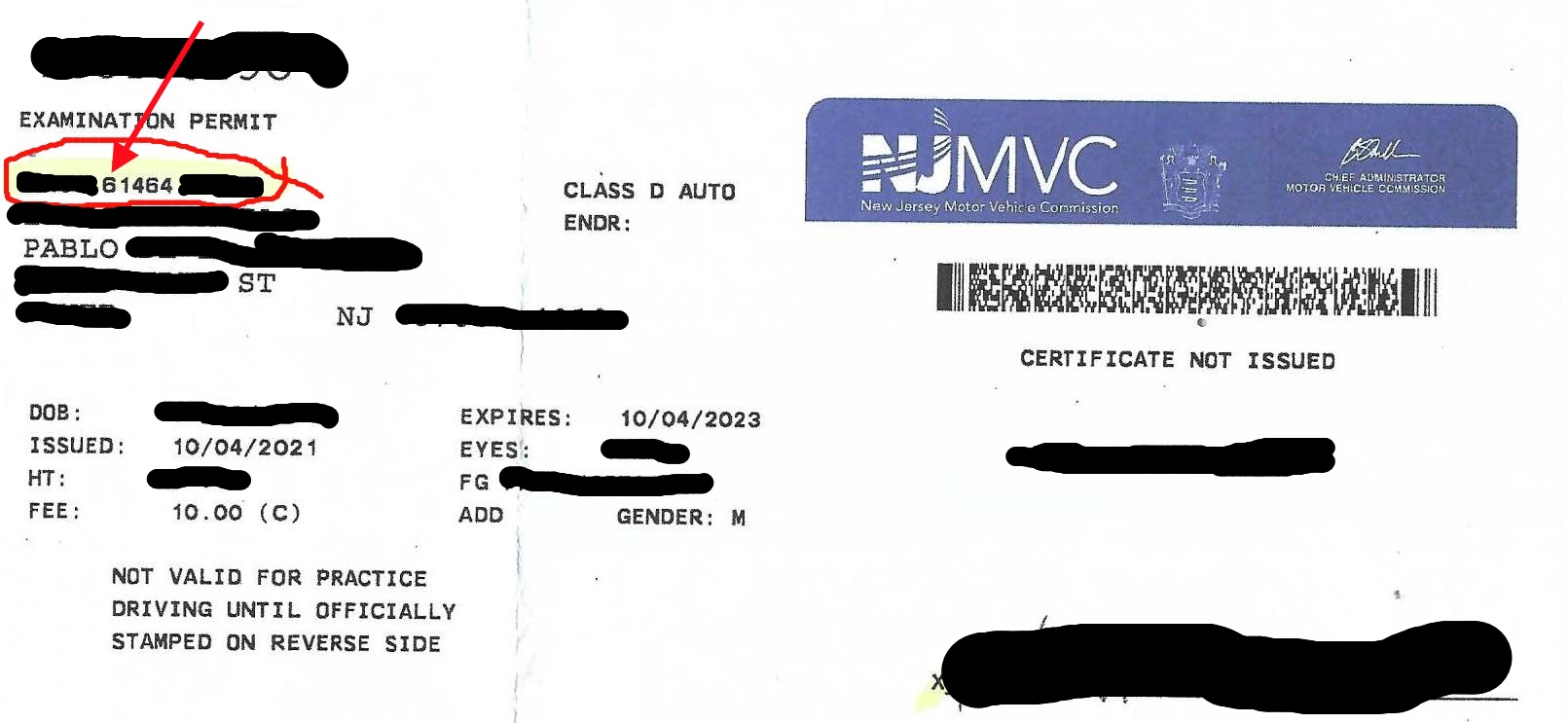 Email

Now Pablo's file has one number in one place and a different number in another place! (Insert here more forehead-thumping.)  That's going to result in untold headaches in the future.  I sent off an email in response to the DMV agent's email with photocopies of the license, the screenshot of the application form with the error message, and the sender's original reply to my inquiry with the incorrect license number.  .Meanwhile, Pablo will study for the Knowledge Test, and when he thinks he's ready, we'll try to show up early at the DMV office and see if he can take the test without an appointment.
We shall await developments.
I will periodically update this comedy of errors until Pablo can legally drive off into the sunset.
.