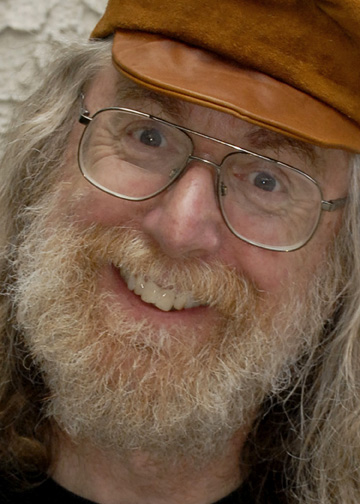 Photo by Robert Corwin
Original Site Design by Deborah O'Hanlon
Post-design assistance by Joe D'Andrea.

Mike Agranoff
...a one of a kind folk musician
If you've been around the folk scene, you couldn't miss seeing Mike. Tall, ginger beard, and always around where the music is. He's been on the scene for many many years, listening to the fine details of what makes this genre of music so special to the soul, so able to make us laugh and cry and think. And lucky for us all, he got serious about having fun at it.
Equally at home in the contemporary and traditional camps of the Folk world, he is a fine musician and storyteller. His prime instrument is the guitar, upon which he shines with intricate fingerstyle arrangements of anything from Tin Pan Alley tunes of the '20s to fiddle tunes to his own music. He also plays concertina, piano, banjo, or sings acapella. He can be uproariously funny, contempletive, and powerfully emotional in the space of a few minutes. Not so much a singer-songwriter as a "singer-songfinder, Mike takes great delight in discovering the little-known hidden gems, polishing them with his own distinctive style, and bringing them to the light of day where they sparkle. The man will capture your attention, and then your heart.
Not only a performer, Mike is involved in presenting folk music as well. He is one of the prime movers of The Folk Project, New Jersey's oldest and strongest folk music organization. For over two decades he has been chairman of that organization's Minstrel Coffeehouse, one of the longest lived and most respected folk venues in the country.
Listen to Audio Files

Go to the Store and scroll down to the description of Mike's recordings. Next to each track is a

symbol. Click on that to hear either a clip from the track or the full track as noted.
Click Videos and you'll see some links to videos of Mike and his YouTube Channel. Enjoy!