Florida Gig & Vacation
(Note: Clicking on any image in this travelogue will bring up a full screen version of the image.)
Thursday, February 2 - Friday, February 3:
Boonton, New Jersey to Davie, Florida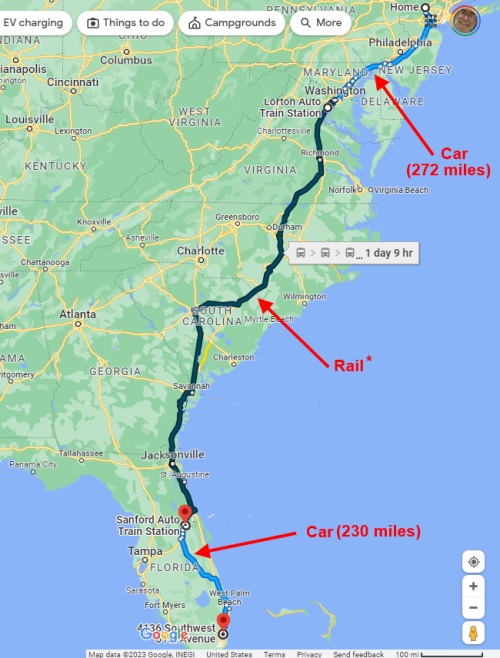 * Actually, that's not the true route of the train.
When I clicked on "Transit" in Google Maps, as
my route preference, it couldn't figure out that I
wanted to take the train between the two train
stations, and showed me the bus route instead.
But you get the general idea.
It was obvious from the start that the South Florida Folk Festival was not going to be a money-making gig for me. For starters, it was a flat $300 fee for a gig 1,100 miles away from me. But I figured it would be a loss leader for me, and give me the opportunity for some exposure to other potential presenters. Yeah, I know. Exposure is something you die from. But what the hell! I ain't doing this to pay the mortgage. And besides, it's also a vacation. Everyone knows that vacation dollars are like a foreign currency, and don't mean the same thing as regular dollars. So I figured I'd splurge and take the Auto Train down. I'll just be careful and not declare the train fare as a business expense.
| | | |
| --- | --- | --- |
| 1. Loading my car | 2. Car carrier | 3. Sleeping compartment |
The Auto Train is a unique route operated by Amtrak between Lorton, Virginia (near Washington, DC) and Sanford, Florida (near Orlando), designed for northern snowbirds to be able to take their cars to Florida for the winter. As one might suppose, you drive to the train station, and they load your car onto special double-decker rail cars designed for the purpose, and whisk you away to the sunny south, where they unload the car for you to take to your ultimate destination. It's a good idea in theory, and maybe even in practice, but it's not all that great. For one thing, it's slow. The train departs at 5:00 in the afternoon, and arrives at 10:00 the next morning, and you need to arrive 2 hours before departure, and wait anywhere up to 2 hours for your car to be unloaded upon arrival. That's roughly 8 hours slower than it would take to drive the 800+ miles. Then, you're spending the whole night on the train. The seats are quite comfortable; roughly equivalent to first class airline seats. But you're in them for 19 hours. I sprung the extra $700 (round trip) for a sleeper compartment. I had a 4-hour drive to my final destination in Davie (near Ft. Lauderdale), and I wanted to be functional when I arrived.
There are some ancillary benefits to the rail route. You save on a motel stay in each direction. There are no baggage restrictions; pack everything you might need, and leave it all in the car while you just take an overnight bag on the train with you. They feed you dinner (pretty good) and breakfast the next morning. (Not so good: a lukewarm egg McMuffin.) I was able to carry my guitar in the light gig bag, rather than schlepping the heavy flight case through the airport, had I chosen to fly. But even so, the costs far outweigh the savings and other advantages. The sleeping compartment was really tiny. There was maybe 10 inches between the edge of the seat/bed and the wall. Nonetheless, I found it quite comfortable. The only time if felt really cramped was in undressing for sleep. I lowered the upper bunk, and stashed my guitar and backpack up there. In seating configuration, I could put my feet up on the opposite seat and read, use my laptop (WiFi was provided), or just watch the world go by in comfort. When I went to the dining car for dinner, the steward converted the two seats into a bed, which, while somewhat narrow, I found very comfortable. (Photo #3. Not a particularly good shot, but there is no vantage point from which I could get the whole compartment in the photo.)
Jenny arranged to fly down on Saturday night, and I would pick her up at the Ft. Lauderdale airport around 10:30.
I left home around 9:00 AM, drove leisurely, stopping for lunch, and arrived at the train station in Lorton, VA around 2:45. I got lucky in making one of the fastest and least-congested runs down I-95 to Washington I can remember. My timing was good; New Jersey was just entering a cold snap of single-digit temperatures for the next several days. I left my parka and gloves in the car, and didn't need them again until I got home. I watched them drive my car into the car carrier (Photo 1), and joined the mob in the waiting room until it was time to board. It was an interesting procedure. The car carriers (Photo 2) are double-decker, and they had four tracks of them lined up in parallel sidings waiting to receive the vehicles. There were maybe 4 or 5 of them all coupled together on each siding, and the ends of each carrier were opened up, and short connecting ramps were laid from each car to the next. At the near end of each siding there was a long ramp from the ground to the end of the first carrier. The ramp could pivot up or down at its near end, and the far end could be raised or lowered to be level with either the upper level or lower level of carrier. A gang of about a dozen workers would drive the vehicles up that ramp to the upper level, and then on through the entire line of carriers. They would then walk back to the parking lot for another load. When the top level was full, the end ramp would be lowered, and they'd do the same on the lower level. When that was full, they'd go on to the next siding and fill those carriers. All very smooth and efficient.
We were then allowed to board, with plenty of porters there to help us find our assigned car and compartment. The train departed pretty much on time with an acceleration so smooth as to be imperceptable. We traveled only about a quarter mile, and then waited while the carriers were coupled to the end of the passenger cars. And finally we were on our way. It was a long train. I'd guess maybe 40 or 50 cars, carrying 360 passengers and 150 vehicles. Speed was relatively slow; I'd estimate 40 - 50 MPH, occasionally getting up to 60 at some of the better sections of track. It was mostly pretty smooth, but you could tell when we slowed for some of the poorer sections by the rocking of the cars. There were three seatings for dinner, and I had the 9:00 seating. I returned from dinner to find my compartment reset from seats to beds. I retired, and slept well to the gentle rocking of the car.
The toilet was very much like the one you might find in an airplane. I was amused by the placard that admonished me to put nothing into the bowl except Amtrak-supplied paper. I wondered if I should pee in the sink. I didn't bother investigating the shower. I generally shower every other day anyway.
The next morning, I awoke, got what passed for breakfast in the dining car, and retired back to my compartment, put my feet up on the bed, and admired the scenery until we pulled into Sanford about a half hour late. There had been some sort of "medical emergency", in the middle of the night, and we were obliged to stop and let someone off the train to be taken to a hospital. I was lucky in seeing my car come off the ramp in the 2nd group, so I got an early start. I had been offered overnight housing for the duration of the Festival by a wonderful woman named Grace Moses. She lives about a half mile from the festival site, and I was scheduled to check in with her on Friday afternoon. She even offered to have me stay on after the Festival, and use her place as base of operations for Jenny's and my sight-seeing adventures over the next three days.
I was born and raised in New York City, and learned to drive on its mean streets. So I'm no fading flower when it comes to driving in traffic. But South Florida was a whole new ball of wax, for which I was unprepared. There has obviously been a lot of new highway construction down that way, and I found myself on 10- and 12-lane highways with complex swooping entrance and exit ramps, populated by drivers who have absolutely no clue about lane discipline, safe following distances, or road courtesy. There were maniacs doing 90 swerving into the tiniest hole in traffic, and clueless rolling roadblocks doing 55 in the middle lane, and impatient jerks that appeared only as giant front grilles occupying the entirety of my rearview mirror. There were traffic lanes identified as "Express Lanes" and "HOV lanes" and "Toll lanes" by signs with lettering in lights that would change depending upon the time of day. What are the rules here? There were 1-lane exits and 2-lane exits and 3-lane exits indicated by arrows on the roadway that you couldn't see until you were so close to the actual ramp that it was too late to do anything about them if you weren't in the lane you wanted. None of the traffic cues with which I was familar applied here. I was out of my element, a rare road experience for me. I was more at home driving on the left in England than I was in south Florida
I finally made it in one piece to Grace's place. She is a tiny woman with a big heart, and thorughly devoted to the Broward Folk Club and its activities. She is its treasurer and its treasure. She showed me to my digs for the duration, it wasn't quite what I expected. She lives in a 2-storey condo, one of many such attached dwellings in a development I would have called "garden apartments". But I was to stay in another unit of this development that she owned as a rental property. It was empty at the time, and in the midst of being refurbished after having been occupied by the tenant from Hell. The repairs were running late. It was wonderfully roomy after the train compartment, but it was still missing such niceties as illumination in the bedroom, a kitchen sink, WiFi, a garbage can, a horizontal surface on which to place a book, laptop, or food tray, etc. It would certainly suffice for the duration of the Festival, as I expected to spend very few waking hours in the place. But I soon decided that I would prefer less spartan digs for the following week with Jenny, so I resolved to book a hotel room for Sunday night through Thursday morning when we would leave for home.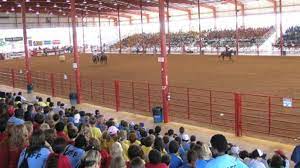 4. Bergeron Rodeo Grounds
(No full-page image available)
Grace rode with me out to the Festival site, which was only about 3/4 of a mile from her house. It took place at the Bergeron Rodeo Grounds, a site I would not have expected to host a folk festival. But not a bad one, if you stop and think. It's a vast space with a packed-earth floor, under cover, but open on all sides. That means it's impervious to rain, although a torrential downpour would make a lot of noise on the metal roof. It's also shaded from the Florida sun, and the open sides permit plenty of cross-ventilation cooling. There were two portable stages set up along one edge, angled away from each other to minimize sound bleed, with lots of folding chairs set up at each stage. Well, it would be my first rodeo.
I had some time to engage in a short song-swap with some members of the Broward County Folk Club in an area outside the covered Rodeo Grounds, and get to know af few folks and become known by them as well. I was scheduled for an early time slot the following day for my concert, and wanted to entice a few folks to check me out. The weather was actually a little chilly, with a stiff breeze that made it mildly uncomfortable. Also the site proved to be right under the flight path of planes taking off from nearby Ft. Lauderdale Airport, which made it a less-than-ideal spot for a song-swap. But we soldiered on. As dusk approached, I took Grace, and her boyfriend Dan out to dinner at the nearby Flashback Diner, and then retired for the night in my empty digs.
Saturday, Feb. 4:
South Florida Folk Festival
Back to the Flashback Diner for breakfast, and then out to the Rodeo Grounds. I don't have a lot to say about the Festival itself. Also, I didn't take many photos of the procedings. I was pretty much concentrating on the music, both my own and that of the other performers, and didn't pay much attention to what I'd need for this Blog entry. Saturday was rather cool, cloudy, and windy, with occasional spurts of rain. It highlighted the advantages of the covered site of the rodeo grounds, but it was still a little chilly and uncomfortable to be outside. I said as much to Jenny when she called me just prior to her leaving for the airport, and all she had to say was "Hah!" (She lives in Vermont, and the temperature was in the single digits as she left the house.)
I was second in the lineup on the secondary "Gator Stage" One can always judge one's place in the pecking order by where and when one is scheduled. At least they didn't put me on first.
| | | |
| --- | --- | --- |
| 5. Me on stage | 6. Me on stage | 7. Brian Smalley |
I acquitted myself pretty well, I think. People clapped where I expected them to, and laughed when I expected them to. I did blow the Bach Gavotte on the concertina. The synapses just weren't all firing on that, and I had to abandon it close to the beginning of the piece after several attempts. But I put it behind me gracefully, and forged ahead. "The Princess and the Frog" got lots of laughs and big applause, and I had every eye in the house for "The Ballad of the Sandman". And there were a couple of important eyes there to see me: those of Bill Wunderlich, the President of the Broward County Folk Club, and a woman who ran house concerts in the area. I think I did OK for myself.
For the rest of the day, I took in some other acts, and spent some time in the Jam Circle. The one act i saw that really blew me away was a hot guitarist/songwriter named Brian Smalley. He not only was a great player, but he gave a master class in stagecraft. He was truly impressive, evidently well-known in the area, and deserving of the closing act on the Main Stage. I wanted to talk to him for a bit to find out if he might be affordable to play at the Troubadour. (Most of you readers are aware that I book that concert series for the Folk Project.) He said he was leaving the Festival grounds to spend the night at the home of Bill Wunderlich. I asked him and Bill if I might drop over that evening to see him. They both agreed.
What I had not realized was that Bill lived quite some distance from the festival site in one of those giant multi-storey apartment buildings right on the beach in Fort Lauderdale. When I got to where the GPS told me was his address, I couldn't see any building numbers, and there was no street parking. I pulled into the unloading area of some building and called Bill. He directed me to his building, and was there to greet me in the entrance to the building's parking garage, and directed me to a spot where I could leave my car for a few hours. When we got up to his apartment, Brian had not yet arrived, and I realized I had only about a half hour before I had to leave to pick up Jenny at the airport. I spent that half hour productively in chewing the fat with Bill, and playing a few songs for him. (He's a guitar collector, and he admired mine.) I was just packing up to leave when Brian rang the doorbell. Oh, well, bad timing, but I made the best of it.
I got to the airport with good timing to pick her up with minimal waiting on her part. She packed really light, and managed to put everything she needed for 3 days in her carry-on. We stopped for a light dinner, and I took her back to my empty digs. Stumbling around the dark bedroom by the light of my cell phone flashilight, I confirmed my resolution to move to a hotel for the rest of our stay.
Sunday, Feb. 5:
South Florida Folk Festival
Sunday morning we packed everything in the car before we left. We breakfasted at the Flashback Diner again, and used their WiFi to book a room at the Holiday Inn near the airport for the rest of our stay.
My Sunday Festival duties consisted of presenting a workshop entitled "Putting Away the Book: Techniques of Memorizing Songs", scheduled for the last time slot in the afternoon at 3:30. Throughout the entire Festival, any time I mentioned that workshop, people responded with some version or other of "Man! I have just got to attend that one!" It got so that I was concerned there might not be enough chairs in the workshop area. So I made a nuisance of myself getting the Workshop Chairperson to scare up a dozen or so chairs (She was the Chairperson, after all.) and bring them to the site. Well, what a bust that turned out to be. At its peak, there were only 4 participants, and the sound bleed from the main stage made it very difficult for people to concentrate on that admittedly difficult task of remembering lyrics. I apologized profusely to the Workshop Chairperson for putting her through that needless bother.
For the rest of the day, I divided my time between watching some of the other acts, hanging out in the Jamming Area, and catching a quick snooze.
Jenny, in her role as Tour Director of our Florida Vacation, had scheduled us to see a performance of Step Afrika on Sunday evening. When my workshop was done, I suddenly realized that it was only an hour and a half till curtain time. I had to rush around, collect my CDs from the sales table, do a quick idiot check to see what breadcrumbs I had left around the site, and hit the road without saying goodbye to anyone except those I encountered in my packing up. We hit the road and were gone.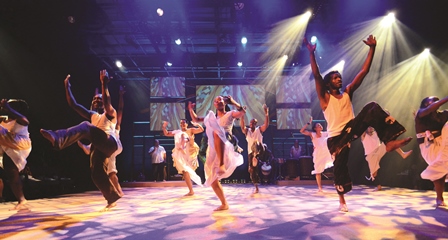 8. Step Afrika
(No full-page image available)
One of the many reasons I love Jenny is that she broadens my horizons. Step Afrika is a show that never would have crossed my mind if left to my own devices. It is so unlike anything I've ever encountered that I can't even think of a word to describe it. The word they themselves use is "stepping". But it is an entirely new-to-me definition of that word. "Dance" would be the word that probably comes closest in my experience. It was performed by a troupe of 11 African-American men and women. It consisted of a series of dances based upon black dance forms from Africa, the United States, and elsewhere,.both traditional and newly created. Most of the dances used no musical instruments, the music coming solely from the performers' feet and hands on the floor and on their own bodies, and their voices. (There was one sequence that used a set of hand drums, and another where the dancers carried sticks.) It was athletic and exciting and beautiful. The closest I had ever seen in my experience were demonstration teams of Appalachian clog dancers that took the basics of the home-spun step dancing done by country people for their own enjoyment, and choreographed from that raw clay demonstration dance routines for a stage performance. I got exhausted just watching them.
We stopped off for dinner at the most bedraggled Pizza Hut I've ever seen. (The pizza was still good, but the place was depressing.) We headed back to check in at our home for the next three days, the Holiday Inn Express in Fort Lauderdale. Sounds rather unromantic, but it was comfortable, more than sufficient for our needs, and infinitely better-equipped than the air matress in an empty unlit bedroom of the previous night. Came with a continental breakfast, too.